Flute Studio
Mrs. Leake McKnight has been teaching private flute lessons to all ages and levels for 30 years. Her main focus in teaching is the development of the love for music which involves helping students gain proficiency on the instrument, instruction in tone production, and most importantly the development of a musical approach.  One of the highlights of lessons is playing duets.  Duets are wonderful for working on intonation and ensemble playing as well as learning the art of cueing.
All students are invited one Saturday a month to Faith Lutheran Church (10395 University Ave., Clive, IA 50325) for a studio class with Mrs. Leake McKnight. During their studio class time, she allows her students to perform any audition/competition materials they are currently working on.  The students in the audience provide feedback at the end of each student's performance. She also uses this time to address any topics that work well in a large group setting. They conclude their time working on flute ensemble (trios, quartets, quintets, choir, etc.) repertoire which will be performed on the studio recital at the end of the year.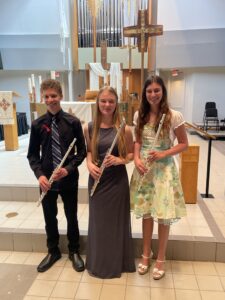 Mrs. Leake McKnight helps prepare students for All-State and SCIBA auditions as well as various solo contests including the Iowa Flute Festival Flute Wonders competition.  In preparation for auditions and performances she instructs students in stage presence and performance anxiety.
If a student desires to study music in college Mrs. Leake McKnight guides the student in the steps to ensure acceptance in a music program that is a good fit for the student.
Mrs. Leake McKnight also has had much experience with pain prevention through posture improvement. She has spoken about this at several flute festivals around the country.
Lastly, each high school senior is highly suggested to play a recital in preparation for graduation. Many students connect this event with their graduation party.  As well each year Mrs. Leake McKnight's studio performs a recital for parents and family as well as friends.  Each student performs a solo as well as an ensemble with another student(s) and/or with Mrs. Leake McKnight.  This performance has been a highlight for all the students.
Mrs. Leake McKnight teaches in 30, 45, and 60-minute lesson increments.  6th graders usually start with 30-minute lessons, advanced 7th graders move up to 45 minutes, and high school students, especially those entering many of the competitions as well as those interested in studying music in college, are encouraged to move to 60-minute lessons.
Mrs. Leake McKnight teaches from her studio in Des Moines, Iowa (near Drake) as well as through the use of video calls if the student lives too far from Des Moines.
"I am always impressed with Mrs. McKnight's skill level when she demonstrates my pieces for me. Mrs. McKnight has helped me to improve my playing in every aspect!"
- Amy Duty
"I took lessons with Erika for 4 years during my undergraduate degree in flute performance. Her teaching is compassionate and personalized. She went beyond the technical aspect of flute playing to inspire joy and musicianship. Our lessons were fun! I remember dancing, visualizing stories for music, and unique scale games. I always left my lessons smiling and excited to practice. Erika truly cared for me as a person and was my mentor well beyond my undergraduate years. She went above and beyond to ensure my success as a flutist. As a result of her teaching, I grew as a well-rounded musician and person."
--Marisa Kelegian, BM (Flute Performance) Drake University, MM (Flute Performance) University of North Texas, also has BSN and RN